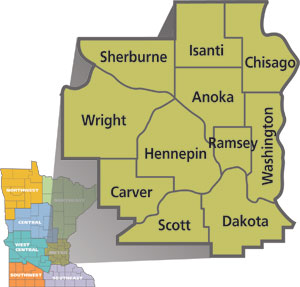 The Clean Energy Resource Teams – or CERTs – are a statewide partnership with a shared mission to connect individuals and their communities to the resources they need to identify and implement community-based clean energy projects.
Metro CERT serves the 11-county Twin Cities metropolitan area by empowering communities and their members to adopt energy conservation, energy efficiency, and renewable energy technologies and practices for their homes, businesses, and local institutions.
Metro CERT Helps Communities:
Select projects to achieve community energy goals
Identify funding, technical assistance, and expertise
Connect to peer communities that have completed successful projects
Plan workshops, events, and trainings on energy topics
Share project stories through case studies and blog posts
Complete energy actions as part of the GreenStep Cities program
Enroll in Minnesota's Guaranteed Energy Savings Program
Obtain project funding through

CERT

s Seed Grants
Help the State of Minnesota achieve its energy efficiency and renewable energy goals
To learn more about the Clean Energy Resource Teams, please visit the CERTs website at www.cleanenergyresourceteams.org.